Choice of Spa Pamper Package with Pool and Beach access at 5* Ayana Spa at Bab Al Qasr Hotel (Up to 65% Off)
Ayana Spa at Bab Al Qasr Hotel Abu Dhabi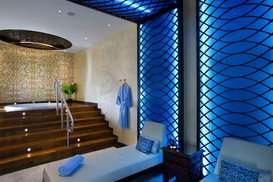 What You'll Get
---
Choose from Six Options
AED 199 for a choice of a 30-minute spa treatment with pool, beach, and spa facility access for one (62% off)
AED 299 for a choice of a 60-minute spa treatment with pool, beach, and spa facility access for one (60% off)
AED 399 for a choice of a 90-minute spa treatment with pool, beach, and spa facility access for one (58% off)
AED 365 for a choice of a 30-minute spa treatment with pool, beach, and spa facility access for two (65% off)
AED 499 for a choice of a 60-minute spa treatment with pool, beach, and spa facility access for two (61% off)

AED 699 for a choice of a 90-minute spa treatment with pool, beach, and spa facility access for two (63% off)

30-minute treatment includes: Phytomer skin specific express facial | body scrub | spa treatment

60-minute treatment includes: 60-minute spa treatment of choice or two 30-minute treatments

90-minute treatment includes: 90-minute spa treatment or 60-minute spa treatment and a 30-minute facial or 30-minute scrub

The spa facilities access include: pool | beach access | Jacuzzi | steam room | sauna | relaxing area
Treatments offered:
Body scrub: Desert Sand | Alum Stone Honey and Royal Jelly | Pink Crystal and Argan Shell

Facial: Phytomer Skin Specific Express Facial

Spa treatment: Balinese | deep tissue | Swedish

Couple treatments are available in couple suites
---
INCLUDED AND NOT
Expires 4 months after purchase. Not valid on Public Holidays, 14th February, Easter, Christmas day, and 31st December. Limit 5 per person, may buy 5 additional as gifts. Booking required by phone or email, contact 02 205 3000, 02 205 3090 or ayanaspa@babalqasr.com. Prior booking/cancellation (subject to availability) at least 24 hours in advance. Pool timing: 6.00am-9pm. Beach timing: 6.30am to 6:30pm or sunset whichever is earlier. Spa timing: 10am-10pm. Valid for option purchased only. Voucher number and security code should be provided book the appointment. Voucher will be redeemed 24 hours before the treatment time. No cancellation or change of timing is permitted within 24 hours before the appointment timing. Groupon prices are inclusive of VAT where applicable. E-/Printed voucher must be presented. See the rules that apply to all deals.
Ayana Spa at Bab Al Qasr Hotel Location
Choice of Spa Pamper Package with Pool and Beach access at 5* Ayana Spa at Bab Al Qasr Hotel (Up to 65% Off)
See Options
---
For one: choice of any 30-minute spa treatment with pool, beach, and spa facility access




62% OFF

For one: choice of any 60-minute spa treatment with pool, beach, and spa facility access




59% OFF

For one: choice of any 90-minute spa treatment with pool, beach, and spa facility access




58% OFF

For two: choice of any 30-minute spa treatment with pool, beach, and spa facility access




65% OFF

For two: choice of any 60-minute spa treatment with pool, beach, and spa facility access




61% OFF

For two: choice of any 90-minute spa treatment with pool, beach, and spa facility access




63% OFF
BUY
Give as a Gift