Interior, Exterior or Both Detailing Packages for Saloon Car, SUV or 4x4 at German Pro Auto Care (Up to 67% Off)
German Pro Auto Care ABUDHABI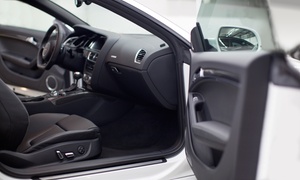 What You'll Get
---
Choose from Four Options
AED 199 for interior deep cleaning and detailing or exterior detailing and care for a saloon car (60% off)
AED 249 for interior deep cleaning and detailing or exterior detailing and care for a SUV or 4x4 (50% off)
AED 349 for full interior and exterior cleaning, detailing and care for a saloon car (65% off)
AED 399 for full interior and exterior cleaning, detailing and care for a SUV or 4x4 (67% off)
Interior detailing includes:
Complete internal vacuuming and deep cleaning of the whole cabin
Cleaning of synthetic carpet, vinyl upholstery, various natural fibres, carbon fibre composites, plastics and other surfaces
Leather seat cleaning and conditioning
Cleaning and polishing of dashboard and the door panel
Air conditioning vent, console, seat and belt cleaning
Liquid and foam chemicals, as well as brushes, may be used to remove stains from upholstery
Some non-porous surfaces may also be polished
Exterior detailing includes:
Washing and drying
After washing for sandy surface, clay bar is used to remove embedded contaminants
Engine cleaning and degreasing
Headlight restoring and polishing
Diamond cut paint restorer followed by a high gloss machine polish
Cleaning and polishing of grills and metal parts
Washing and decarbonising of alloy wheels
Cleaning foam on tyres for long-lasting gloss and rubber protection
Six-step polishing and waxing
---
INCLUDED AND NOT
Expires 90 days after purchase. Limit 5 per person, may buy 2 additional as gifts. Booking required by phone, contact 02 6277100, 050 7774863 or 050 3332175 and provide Groupon codes. Prior booking/cancellation (subject to availability) at least 24 hours in advance. Groupon prices are inclusive of VAT where applicable. Valid on option purchased only. E-voucher must be presented. See the rules that apply to all deals.
German Pro Auto Care Location
Interior, Exterior or Both Detailing Packages for Saloon Car, SUV or 4x4 at German Pro Auto Care (Up to 67% Off)
See Options
---
For a saloon car: interior deep cleaning and detailing or exterior detailing and care




60% OFF

For a SUV or 4x4: interior deep cleaning and detailing or exterior detailing and care




50% OFF

For a saloon car: full interior and exterior cleaning, detailing and care




65% OFF

For a SUV or 4x4: full interior and exterior cleaning, detailing and care




66% OFF
BUY
Give as a Gift