Up to AED 300 to Spend on Food, or Party for Up to 12 at Ray's Bar, Jumeirah Hotel at Etihad Towers (Up to 58% Off)
Ray's Bar, Jumeirah Hotel at Etihad Towers Abu Dhabi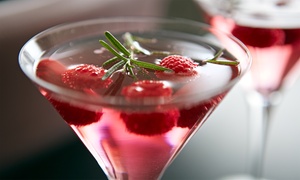 What You'll Get
---
Choose from Three Options
AED 75 for AED 150 to spend on food and drinks (50% off)
AED 150 for AED 300 to spend on food and drinks (50% off)
AED 1,250 for a party package with drinks and snacks for up to 12 people (58% off)
Party package includes:
Direct access to Ray's Bar, level 62 
Private area for 12 guests for the entire evening 
Two bottles of selected beverage 
Choice of mixed drinks, except energy drinks 
Snacks for up to 12 guests: duck spring roll | Ray's fries | vegetarian flatbread | chicken sandwich | polenta fries 
One round of mini beverages 

Valet parking

See the full menu
---
INCLUDED AND NOT
Expires 4 months after purchase. Limit 5 per person. Valid daily 8pm-2am. Prior booking is mandatory and can be made through JAD Restaurant Reservations on 028115666 or JADrestaurants@jumeirah.com. 24 hour prior booking/cancellation notice required for Exclusive Party Package only at 028115666. Prior booking/cancellation (subject to availability) at least 24 hours in advance. Dress code applies. Not valid during public holidays. Valid on option purchased only. Printed voucher must be presented. Groupon prices are inclusive of VAT where applicable. See the rules that apply to all deals.
Ray's Bar, Jumeirah Hotel at Etihad Towers Location
Up to AED 300 to Spend on Food, or Party for Up to 12 at Ray's Bar, Jumeirah Hotel at Etihad Towers (Up to 58% Off)
See Options
---
AED 150 to spend on food and drinks




50% OFF

AED 300 to spend on food and drinks




50% OFF

Party package with drinks and snacks for up to 12 people




58% OFF
BUY
Give as a Gift